Discover more from Murtaza Hussain
Book reviews, interviews, and social commentary.
Over 2,000 subscribers
Best Books I Read in 2022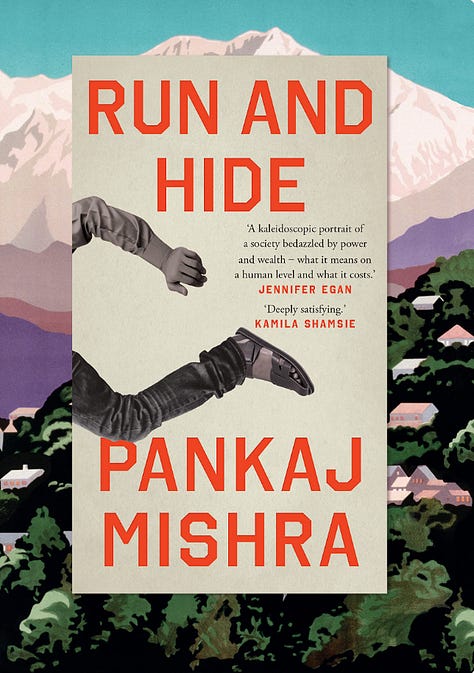 For the last decade, I've aimed to read 80 to 90 books per year. A lot of people have asked me how I do this, implying it is a lot, but I have to say it is not that difficult. If you follow a simple formula of rarely watching television and carrying a book with you at all times to read in spare moments, I guarantee that you will be pleased with the results. There is also Francis Bacon's helpful dictum, "some books are to be tasted, others to be swallowed, and some few to be chewed and digested," that, if remembered, will teach you how to optimize your reading based on circumstance. I only read 53 books this year as it was an unexpectedly busy year for me and I recently have begun devoting some more of my free time to language learning. That said, I did read a handful of gems that I wanted to share and that I think that anyone would find interesting and entertaining.
Run and Hide by Pankaj Mishra
Three Minute Book Club is a reader-supported publication. To receive new posts and support my work, consider becoming a free or paid subscriber.
A novel about India's chaotic rise to modernity by one of my favorite authors. The book follows three graduates of a top Indian information technology college as they seek wealth and fame in a rapidly modernizing society. They discover the dark side of wealth and status along the way, as their compatriots likewise grapple with the painful sentiments that arise in a developing country on the cusp of change. The book is melancholy and humorous, while revealing something important about the world that cannot be learned by just reading the news. Uncharacteristically for Mishra's works it is even a bit vulgar, which I suspect was a deliberate choice to help illustrate the manner in which India was becoming unmoored from its traditional values. (I wrote about this for The Intercept)
Empty Planet: The Shock of Global Population Decline by Darrell Bricker and John Ibbitson
I've noticed that conservatives often like to troll liberals concern over climate change and environmental depletion by claiming that actually the real problem is that we don't have enough people out there to build and consume new things. The authors of this book are two impeccable liberals, but, nevertheless, they happen to share the view that the world's population is headed for a decline that will be potentially calamitous for modern societies. A global economy designed on the basis of continuous growth really does need people to keep the gears turning, and, according to the demographic tables and growth figures, we're running out them. The decline affects not just the West but most of the world outside of sub-Saharan African. This book actually convinced me that population decline really is a problem, and that immigration is the superpower of the West as long as it functions properly in terms of integration. Review.
Black Wind, White Snow by Charles Clover
This book was published years before the current Russian war in Ukraine, yet it's one of the most vital to understanding the ideological drivers behind what looks otherwise like an inexplicable conflict. After the Cold War, Russia lost not just its status in the world but its sense of internal political direction and self-worth. A new generation of Russian nationalist intellectuals has arisen to try and fill this void, coming up with a number of strange and unlikely ideological surrogates to fill the role left by global communism. The funny thing about these ideologies, including Eurasianism and traditionalism, is that no one really seems to believe them, yet they still can generate enough popular legitimacy to sustain an irredentist war and inform the Russian people of who their enemies are. I love intellectual histories and this is a timely one. Review.
Prisoner of the Infidels by Osman of Timisoara and translated by Giancarlo Casale
This is the most obscure and surprisingly moving book that I read this year. An Ottoman soldier was captured as a slave in Europe during the 17th century and wrote a remarkable memoir of the years he spent in captivity during that time. This memoir has only now been translated to English and it is a remarkably poignant document. Osman traveled all over Europe and had all types of relationships. Despite being a slave, he lived a life full of adventure and got to see more of the world than he may have otherwise dreamt, before eventually returning to his past life. His memoir is a time capsule of a world long past and heartfelt on its own terms. If you can get this book you must read it! Review.
The Good Spy by Kai Bird
Easily the most humanizing and sympathetic account I've ever read of a CIA agent working in the Middle East. Robert Ames was an orientalist in the older, more positive sense of the term. Ames loved the Middle East, and thought he was helping it in his role as a U.S. government official who tried to advocate in favor of the interests of the Arab nationalist movements and leaders whom he genuinely admired. This book is a captivating narrative history of the type I love. It has a tragic ending that is emblematic of the misunderstandings and violence that have characterized America's unhappy role in the Middle East over the past century. Review here.
Nights of Plague by Orhan Pamuk
The last book I read this year, and one of my new favorite novels. Pamuk tells the story of a fictional Mediterranean island struck by plague during the early 20th century and how the disease sets into motion an independence movement that frees the island from Ottoman and later European control. Like all of Pamuk's books, this one is dryly hilarious and heartfelt. I'm studying Turkish at the moment and appreciated even more the descriptions of late-Ottoman culture and Turkish nationalism. A lovely novel – the rare one that is worth seven hundred pages. (Review to come)
Three Minute Book Club is a reader-supported publication. To receive new posts and support my work, consider becoming a free or paid subscriber.